Each year The Kim Foundation hosts an event where we bring in a national keynote speaker to help educate our community on mental health and/or suicide prevention. We always love our speakers who join us, but this year we are extra excited to welcome renowned speaker, Jon Gordon. His best-selling books and talks have inspired readers and audiences around the world, and his principles have been to the test by numerous Fortune 500 companies, professional and college sports teams, school districts, hospitals and non-profit organizations.
While Jon is most commonly known for his leadership trainings and positivity work, his most recent book focuses on stress, anxiety, and prioritizing mental health as a crucial component in overall wellness.
Here at The Kim Foundation, we continue to see a staggering number of suicide deaths in our community of working-aged adults. Employers are the prime connection to this demographic by prioritizing mental health in the workplace and providing suicide prevention resources and information. Jon will speak to the role employers can play in their employees' overall well-being with a message of hope and positivity that will resonate with anyone from the corporate world to the general community.
The Kim Foundation continues to promote information and resources that align with our belief that everyone can play a role in saving a life from suicide, we must simply take the first step of learning what that role may look like for us. This event will provide businesses and community members to join together to learn more about what role you might play.
Registration is now open, so please register today! We also continue to look for community partners to help support this event, so if you are interested in various partnership opportunities, please review your options here.
We look forward to seeing all of you on September 20th at Embassy LaVista for our luncheon event! Please don't hesitate to reach out if you have any questions or want to get involved – jhebenstreit@thekimfoundation.org.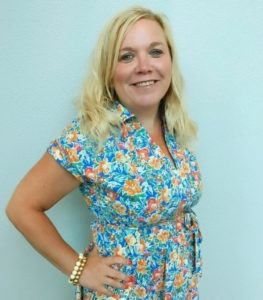 Julia Hebenstreit, Executive Director of The Kim Foundation
Julia Hebenstreit is the Executive Director of The Kim Foundation. She received her J.D. from Creighton University in 2005, and her BS in Journalism from the University of Nebraska Omaha in 2002. She has been with The Kim Foundation since 2011, and prior to that worked for local non-profits doing development, strategic planning, communications and advancement. She has a passion for helping people and improving lives, and serves on the Executive Committee for Nebraska Association of Behavioral Health Organizations, as the 2015 Hill Day State Captain for the state of Nebraska, and as an active member of the Nebraska Suicide Prevention Coalition, the Early Childhood Mental Health Coalition, BHECN Advisory Committee, RESPECT Advisory Board, Connections Advisory Board and the Project Propel Planning Group.