The Holiday season is fast approaching. When reading the definition of the word "holiday," I'm not surprised that it is defined as a day for "celebration," "festivities," and "a period of time during which you relax and enjoy time away from work." Not everyone experiences the holidays in this way. For some, the holidays are far from the cheery and bright definition quickly gathered from a Google search. In this case, holidays may feel stressful, complicated, and overwhelming.
According to the American Psychological Association, 38% of people surveyed said their stress increased during the holiday season; the reasons explained included a lack of time, financial pressure, expectations, and family dynamics. These feelings are real and should not be pushed aside for the sake of meeting the expectations of what celebrating the holidays should look or feel like.
You've probably heard people refer to stress around the holidays as the holiday blues, which are temporary feelings of sadness and loneliness during the holidays. For those diagnosed with a mental illness, these feelings can worsen during this time of year. A NAMI study showed that 64% of individuals experiencing a mental illness reported that holidays make their conditions worse. Those that experience mental health challenges and those that do not can be affected by this.
Tips for Managing Your Mental Health During Holidays:
Recognize your feelings.
If you catch yourself starting to approach this season with dread, recognize those feelings without pushing them away. The more you attempt to use temporary coping mechanisms like making jokes about seeing distant family members, the longer you'll stay in that place of dread. The holidays blues are temporary feelings that don't have the power to control you. Reassure yourself by sitting with these feelings long enough to create a plan of action. You are the only one in control of how much or little you enjoy this season.
Give yourself time.
It may take you some time to create a plan to change the way you enter the holidays. Ask yourself why you feel these feelings and shift your focus to what you like about the holidays. It may be worth creating new traditions for yourself and those close to you. By doing this, you can build in activities that you look forward to. There's no right or wrong way to celebrate. New traditions have the power to bring excitement to the season overall.
Maintain your regular wellness practices.
Try not to get so caught up in the busyness of the holidays that you forget to take care of yourself. If you struggle with the holiday blues discussed earlier, with or without the presence of a diagnosed mental illness, being busy can cause you to neglect the practices that were already in place to keep you mentally well. Make time to do the things that bring joy into your routine.
Seek support.
If you are experiencing mental health struggles don't wait to get help. How you choose to receive help is up to you and your preferences. Consider connecting with trusted friends, family, or professionals to share how you are feeling. With the right support in place, you can find ways to feel like yourself again during the holiday season.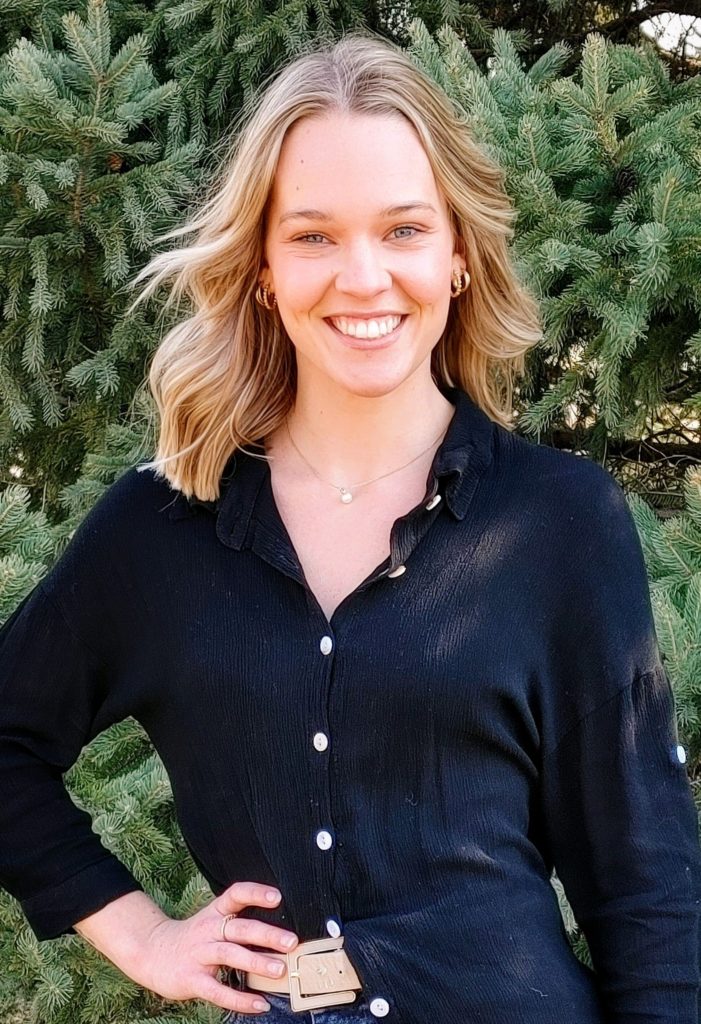 Sidney Howard, Outreach Coordinator
Sidney Howard is an Outreach Coordinator at The Kim Foundation. She earned her Bachelor's Degree in Psychology and Sociology from Midland University, where she was an Event Coordinator for four years. Sidney has previous experience in behavioral health, working with youth and adults in direct care settings. Sidney is passionate about raising awareness around mental health and providing support and resources. She joined the foundation in January of 2023 and currently focuses on outreach through presentations, events, and relations.