The Kim Foundation partnered with ESU#3 again this year, to bring the Nebraska School Mental Health Conference to education and mental health professionals. More than 400 Nebraskans who are invested in this field in some way, joined together at the Younes Conference Center North in Kearney, NE, on June 7th and 8th. While I may be a little biased, I do believe this was one of the most successful conferences we have had to date!
To see so many people join together with a shared passion of serving the youth of our state was inspiring! The content was incredible with three national keynote speakers and 34 subject matter experts from Nebraska leading breakout sessions. We received more proposals to lead a breakout than we ever have, and the variety of topics was greater than we've seen in the past. I think this speaks to the expansion of this work throughout our state and the desire to share best practices, successful experiences, and tools that others can put into action in their community. We know that it takes each of us to continue building a strong continuum of mental health care in our state and school-based mental health services play a significant role in this. I would argue that Nebraska is one of the leaders across the country in this, and we continue to look for ways our system can be improved and expanded.
During NSMHC 2023 we had the opportunity to make an exciting announcement! The Kim Foundation and ESU#3 will be partnering with colleagues in other states to bring you the first ever Middle America School Mental Health Conference May 29 – 30, 2024, and the NSMHC May 31st. This will be held in Omaha and will provide our colleagues from Midwestern states to join us, share with us, and learn from us. More details to come, but we are extremely excited about this!
While I could go on about the incredible breakout topics of this year's conference, the added benefits to the conference such as the self-care room, gratitude wall, reception, the incredibly positive evaluations and feedback we've received, and our Nebraska School Mental Health Champion awards, I think the following statements shared by The Kim Foundation staff tells a much better story.
My favorite thing was . . .
Hearing all the great feedback and conversation happening after attendees left their breakout sessions. You could really tell that they took something from each session that they attended and were passionate about bringing that back to implement in their schools!
Seeing everyone collaborate with one another, especially during our amazing breakout sessions! I love how inclusive and wide-ranging our breakout sessions were. So cool to see professionals sharing their expertise with one another!
The positive energy that carried through the conference from the 8 a.m. open of registration day one to the closing youth panel day two. To see so much passion for our youth in one room was awe-inspiring and such a good reminder of why we do what we do and that we can make a larger impact when we work together!
I loved seeing so many school officials who were completely dedicated to making mental health a top priority for their students. It gave me hope for my kids' future.
It is true, we received an overwhelming amount of positive feedback – with 98.8% of people saying they would refer this event to their friends and colleagues. One of my favorite statements from the evaluations when asked what the most meaningful piece was to them, "The keynote speakers talking about the worthiness of our professions." There is nothing that is truer. Each of our school and mental health professionals in our state are so incredible and what you do on a daily basis is not only worthy, but admirable and our youth wouldn't be where they are without you. Thank you to not only those who attended the conference, but for each of you who work to shape the minds and hearts of the youth of Nebraska!
A huge thank you to our sponsors as well, as we couldn't put on this amazing event without you! To learn more about the sponsors and the event, please visit: Nebraska School Mental Health Conference – The Kim Foundation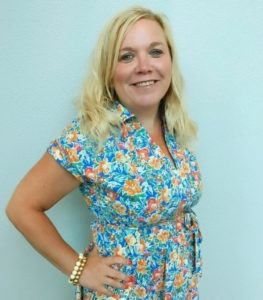 Julia Hebenstreit, Executive Director of The Kim Foundation
Julia Hebenstreit is the Executive Director of The Kim Foundation. She received her J.D. from Creighton University in 2005, and her BS in Journalism from the University of Nebraska Omaha in 2002. She has been with The Kim Foundation since 2011, and prior to that worked for local non-profits doing development, strategic planning, communications and advancement. She has a passion for helping people and improving lives, and serves on the Executive Committee for Nebraska Association of Behavioral Health Organizations, as the 2015 Hill Day State Captain for the state of Nebraska, and as an active member of the Nebraska Suicide Prevention Coalition, the Early Childhood Mental Health Coalition, BHECN Advisory Committee, RESPECT Advisory Board, Connections Advisory Board and the Project Propel Planning Group.