Have you given much thought to how you talk to yourself? Maybe you have and maybe you haven't, but either way I would encourage you to become more aware of the thoughts and statements that you say to yourself daily. Practicing positive self-talk matters and can make a difference in your life. As you are going about each day try and be mindful of how you speak to yourself. Do you look in the mirror and think negatively about what is looking back at you? Or do you look in the mirror and think positively about what is looking back at you? You might be talking to yourself negatively and not even realize it, which is why it is important to be mindful of the thoughts we have and the statements we say to ourselves.
Here are some examples of positive affirmations from www.theeverygirl.com you can give yourself that will hopefully help pick you up and remind you of just how amazing you are!
My past is not a reflection of my future.
I am strong enough to make my own decisions.
I'm in control of how I react to others.
I'm worthy of love.
I will succeed today.
I deserve to feel joy and happiness.
I'm allowed to take time to heal.
All is well.
Difficult times allow me to appreciate the good times.
I'm doing my best and that is enough.
I will not compare myself to strangers on the internet.
I am enough.
My needs and wants are important.
I'm bold, beautiful, and brilliant.
For a full list go to https://theeverygirl.com/50-positive-affirmations-you-should-tell-yourself/.
Life can be difficult and messy, and we are all humans that are imperfect. But even though we make mistakes that does not mean we need to bring ourselves down, instead we need to do the opposite. We all need to talk to ourselves with kindness, compassion, and care. There is only one of each of us in this whole world, so we should be treating ourselves the way we deserved to be treated and that is with love, joy, and celebration.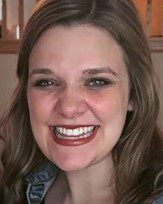 Katie Zimmerman, Project Coordinator for The Kim Foundation
Katie Zimmerman joined The Kim Foundation in June 2019. She earned her Bachelor's Degree in Communication Studies and Sociology from Central College in Pella, Iowa. During her time in college, she volunteered at many non-profit organizations and took multiple sociology classes which focused on mental health. Katie's role at The Kim Foundation includes running the social media accounts, assisting in the Youth Advisory Council, and providing mental health awareness and education.