Disclaimer: This is one of my favorite songs and I mean absolutely no disrespect to the legendary Mr. McFerrin.
One morning, I was driving my especially grumpy kids to school and they were all whining very loudly. One son was worried that we'd be late for school. My daughter was worried about who she'd play with at recess. My oldest son was worried about a huge project he hadn't started yet and "doesn't know how to do." Suddenly I noticed what song was coming through the car speakers. It's almost as if my iPod was listening and sending me some guidance. (Yes, I still use an iPod to play music in my car. Yes, I'm that old.) I reached over and started the song from the beginning and blasted the volume.
"Here's a little song I wrote, you might want to sing it note for note, don't worry, be happy…" I sang that song louder than any mom has sung before. I rolled down the windows and belted the lyrics. My kids were stunned to silence. Eyes wide, mouths agape.
 "You guys," I yelled, "I can't believe how perfect this song is for this very moment! Don't worry, be happy! Look at me, I'm happy!"
I kept singing every word. I danced too. Drivers-seat-mom-dancing, folks. The moment was epic. Epically embarrassing for my kids, that is.
While the song "Don't Worry, Be Happy" is fabulous, the actual saying is counterproductive. Saying that to someone who is truly worried is about as effective as telling them to smile. I'm a professional worrier from way back. I worry about, well, everything. There have been times when I forgot what I was worrying about and then I'd worry about the fact that I was worried but couldn't remember why! It became excessive and eventually I was diagnosed with anxiety.
Over the years, I've found some relief by using different coping mechanisms. I've learned that sometimes I need to talk through my anxiety with someone who can listen without judgement. Sometimes I need to write down what's on my mind. Oftentimes I need to do a puzzle or color so my mind can zone out for a while. These are the things that have helped me. You know what's never helped me? Someone telling me to not worry. And yet, when I was listening to my own children's worries, I sang them this song! (You can't see me right now, but I'm shaking my head.)
It's hard to practice what we preach sometimes. Even though I've lived with anxiety my entire life, I often struggle to know the right thing to say to someone else who's going through it. If you do too, please check out this handy "how to" guide from Johns Hopkins (link below). It contains helpful tips like providing validation and avoiding confrontation. Spoiler alert: it doesn't endorse playing "Don't Worry, Be Happy."
Tips on helping someone with anxiety:
https://www.hopkinsmedicine.org/health/treatment-tests-and-therapies/how-to-help-someone-with-anxiety.
Tips on coping with anxiety:
https://adaa.org/tips
Looking for a therapist?
https://nebraskamentalhealth.com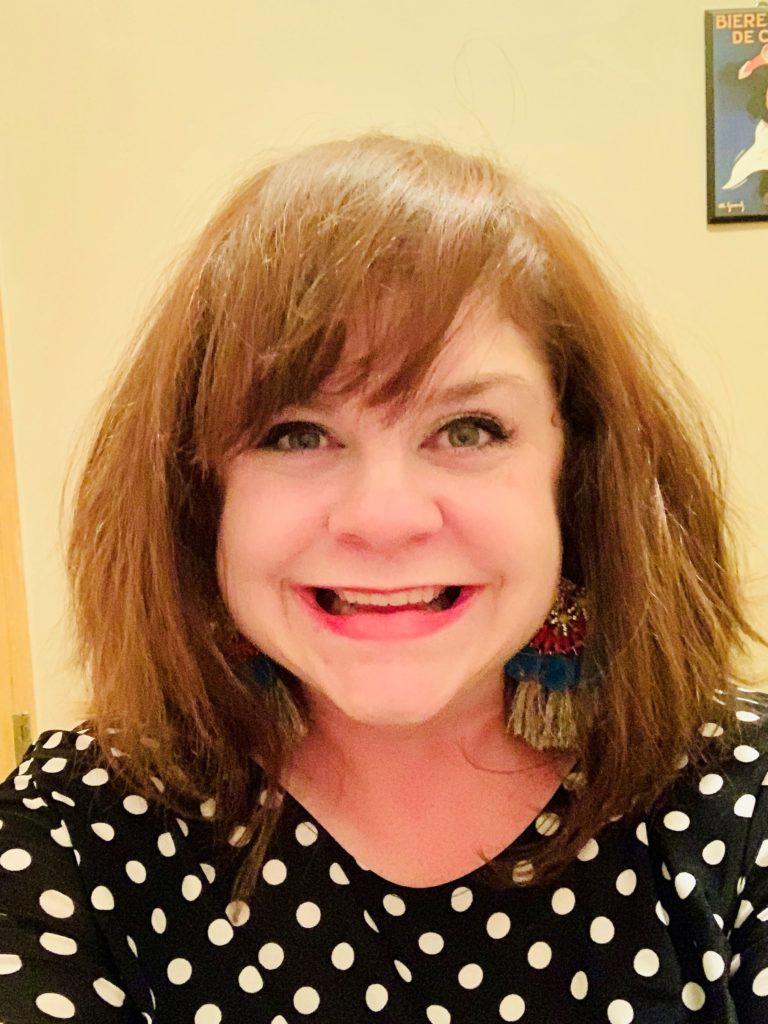 Molly Woodman, Outreach Coordinator for The Kim Foundation
Molly Woodman is one of the Outreach Coordinators at The Kim Foundation. Born and raised in Omaha, she earned her bachelor's degree in Communications from UNO. Molly spent fourteen years as the Director of Admissions and Recruitment at an area private high school. Her passion for public speaking and advocacy led her to The Kim Foundation in August of 2022. Molly manages the foundation's social media accounts, works closely with the Metro Area Suicide Prevention Coalition, and provides mental health awareness and suicide prevention education to the community through the Voice for Hope and Healing presentations.