Hi, everyone! My name is Sidney Howard- I am the newest addition to the team of Outreach Coordinators at the Kim Foundation. I am eager to begin serving the surrounding area while raising awareness around mental health and suicide prevention. Previously working in a direct patient care behavioral health setting allowed me to recognize the need for support and resources within our community and beyond. I am passionate about the mission of the Kim Foundation and am extremely gratified to be a part of the team.
While working in direct care, I had the opportunity to connect primarily with youth in a short-term behavioral care facility. Understanding the importance of mental health at a young age is so necessary. I found that many youth were either undereducated, had not received access to the right type of resources, or were affected by the stigma that surrounds mental health. A person's mental health status directly influences every other area of their life. This is where my passion comes in, I strive to promote mental wellness by providing resources and education.
Before becoming part of the team, I was aware of the efforts that The Kim Foundation put forth in the community, but now that I have had the opportunity to see behind the scenes and get to know the awesome individuals behind the efforts, I am inspired by the work that is put forth to make sure we are living up to our mission and vision as a foundation.
In my free time I enjoy spending time with family and friends, reading, writing, traveling, and I am currently in the process of getting my certification to become a Pure Barre teacher where I enjoy connecting with people in a different setting while staying active.
I can't wait to get started here at The Kim Foundation!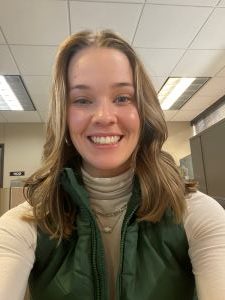 Sidney Howard, Outreach Coordinator
Sidney Howard is an Outreach Coordinator at The Kim Foundation. She earned her Bachelor's Degree in Psychology and Sociology from Midland University, where she was an Event Coordinator for four years. Sidney has previous experience in behavioral health, working with youth and adults in direct care settings. Sidney is passionate about raising awareness around mental health and providing support and resources. She joined the foundation in January of 2023 and currently focuses on outreach through presentations, events, and relations.