New year, new me. We have all heard the phrase. With each new year, almost every individual sets goals to achieve throughout the year. There are high expectations that people put on themselves as they begin the new year. Even though it is a new year and a time where everyone is trying to lose weight, eat healthier, drink more water, etc., know that it is okay to not become a new you. It is okay if it is a new year and you do not set goals for yourself.
Even though goals are a good thing to set, setting goals in the new year can be difficult for many people especially if they don't achieve the goals they set. Having so many high expectations for ourselves in the new year can lead to higher levels of anxiety. If you want to set goals for yourself, I am not trying to discourage you from doing so. Of course, there are many positives to setting goals, and goal setting can be very beneficial for many individuals. I just want everyone to know that just because it is a new year, does not mean you have to focus on setting goals and changing yourself.
As mentioned above, it is important to know that you are enough just the way that you are. As every new year begins it is normal to begin to set goals and reflect on what you are wanting to change in your life, but everyone needs to know that you are enough the way you are. If you set goals and end up not completing those goals, that is okay. We all need to be sure to give ourselves grace.
So, this year I encourage all of you to instead of thinking of all the things you could be, think of all the things you already are. Think of all the amazing things you have already accomplished in your life, think of all the people who love you, think of everything you have been through, and think of you, just the way you are right now. New year, same me (and that is actually quite amazing).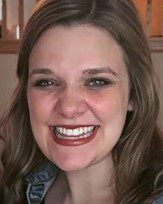 Katie Zimmerman, Project Coordinator for The Kim Foundation
Katie Zimmerman joined The Kim Foundation in June 2019. She earned her Bachelor's Degree in Communication Studies and Sociology from Central College in Pella, Iowa. During her time in college, she volunteered at many non-profit organizations and took multiple sociology classes which focused on mental health. Katie's role at The Kim Foundation includes running the social media accounts, assisting in the Youth Advisory Council, and providing mental health awareness and education to the community through A Voice for Hope and Healing presentations.