The word "productive" can be one of the worst words in the English language. It's not only difficult to spell but it has a heavy meaning associated with it. For many of us, our days are defined by how "productive" we are or aren't. Personally, I feel like if my goals weren't met for the day, then the day was wasted. However, many of the goals that are set aren't realistic to meet within a 24-hour period, forcing us into a never-ending search for productivity.
The hustle and bustle mentality of our current society has placed an increased value on accomplishments. However, who decides what an accomplishment is? I think for many of us this is decided by others, which then allows them to decide whether we are productive or not. The first step in breaking the unhealthy cycle of productivity is to start making these decisions for ourselves. What can you do throughout your day to make yourself feel accomplished?
When I started my own journey, I really struggled with balancing my roles at work. I had always been the go-to person when an extra task needed to be done, or when there was an issue that needed solved. However, the extra tasks and problem solving were outside of my hired position. I was taking on too much stuff and rushing through my day, which gave me massive amounts of anxiety. Of course, at work a lot of things were getting done. However, my personal goals were severely lacking. To make up for this I would rush home and try to do some of the things I told myself I'd do that day. By the end of the day, I was exhausted and all the things I did in my free time were unfulfilling and done poorly.
Doing this day after day is what leads to burn out. I'm sure I'm not the only one who has found themselves in this predicament. If you find yourself running ragged but not taking any time to enjoy the things that make you— well, you—then it's time for a break. I think it's time to set some new metrics that allow you to measure your own productivity. Together we can make the word "productive" a pleasant one.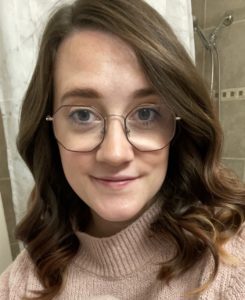 Angel Steadman, Volunteer at The Kim Foundation
My name is Angel and I am junior at UNO as well as a pharmacy technician. I have two dogs named Oliver and Nova that I do almost everything with. I love reading, writing and helping others. When I grow up I aspire to be either a pharmacist or a physician assistant specializing in mental health.