Today marks an unofficial holiday that is celebrated on February 15th every year— Singles Awareness Day (or Singles Appreciation Day). Falling on the day after Valentine's Day, this day is meant to define that happiness doesn't depend on a "better half." Some people may think that celebrating singleness is unnecessary, but it's an important aspect of self-care!
From a mental health and wellness perspective, singleness can cause some mental health problems that include feelings of loneliness, isolation, and lack of support. Here is a statistic that you might find shocking; 54% of people who are single for a prolonged period develop mental health issues that later affect their love life. These mental health issues include suicidal thoughts, depression, anxiety, and mood disorders.
Below are some tips if you are someone who feels like you have been single for too long and might be starting to experience those feelings of loneliness, isolation, and lack of support.
Try to focus on the positives of being single rather than always pinpointing the negatives. If you're having trouble seeing the glass half full, I've got you covered, here are some pros to living the single life- there is more space to think, it's easier to keep close friendships, you have more time for sleep and relaxation, and you get a chance to really get to know yourself.
Learn something new. Alone time can be a lot less lonely when you put your effort towards a new hobby. Maybe there is something you've always wanted to try or a fun class in your area that you've always wanted to take. This is also a great way to build connections!
Journal. I like to say that a journal is a great way of getting to know yourself on a deeper level. It's easier to be grateful for what you do have when you put your gratitude on paper. A journal can help you brainstorm what you do want and don't want in a future relationship, so you don't settle on your long list of cons later down the road.
Although some of these tips might be easier said than done, try to remember that you don't have to be in a relationship to be happy. Build your relationships with your friends and family. Practice good self-care. Be proud of the person that you are and dial down on your strengths and abilities that make you feel good about yourself.
So, happy Singles Awareness Day! Immerse yourself in the joys of being single.
Cheers to you!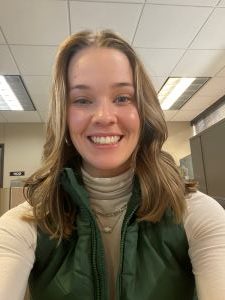 Sidney Howard, Outreach Coordinator
Sidney Howard is an Outreach Coordinator at The Kim Foundation. She earned her Bachelor's Degree in Psychology and Sociology from Midland University, where she was an Event Coordinator for four years. Sidney has previous experience in behavioral health, working with youth and adults in direct care settings. Sidney is passionate about raising awareness around mental health and providing support and resources. She joined the foundation in January of 2023 and currently focuses on outreach through presentations, events, and relations.