November 2nd is Stress Awareness Day. Stress Awareness Day. Not Stress Elimination Day, or even Reduction Day. You just need to be aware of it, apparently.
My people, I don't know about you, but I'm already aware of my stress! There's a lot of it. Some of it is self-created (like the fact that I'm writing this blog the morning it's due)! The rest of it is just a part of life – messy house, bickering kids and lots of work projects. I look to my right and see my full calendar; I look to my left and see my To Do list. Stress Awareness as far as the eye can see! I can't get away from it! But what I can do is become aware of strategies to manage my stress and improve my overall mental health.
Learning to manage our stress starts with practicing self-care. Why is self-care so important? I'm glad you asked! It's important because if we don't take care of ourselves, how are we going to take care of others? It's that whole "put on your own oxygen mask first before helping other passengers" thing. (Those airlines are on to something!) If we burn out, we're no good to our families or coworkers. But how can we find the time for self-care? Excellent question. There are all sorts of sophisticated plans online from a variety of influencers. (It might be worth a Google.) OR, it can be as simple as thinking of the little things in life that bring us joy and mindfully working those things into our daily lives.
Here are some simple ways to do this:
Maybe you like to color but think it's a waste of time. It's not! Buy one of those less expensive adult coloring books and spend a few minutes every evening filling in a section of a picture. Once the picture is complete, write a sweet note to Great Aunt Milly on the back and mail it to her! She'll love the surprise and you'll love the time well spent coloring.
You're social but you don't have time to socialize? Ask Marcia and Jan to come over and hang out while you fold 10 loads of laundry. They might even help. And even if they don't, think of all the giggling that will take place! Lift those spirits while folding towels.
Do you cherish quiet, alone time? Try getting up 45 minutes earlier than everyone else in your household. Use this time to exercise, enjoy your coffee, take an extra long shower, read or just sit and do nothing. For some people, this can start your day off on the right note.
Do you have a blog to write and you love music? Well, turn on the Backstreet Boys to keep you on task and groovin' at your desk!
When we prioritize self-care, we improve our mental health, which helps our mood and enhances our attitudes. Once we refine our attitudes, our To Do lists aren't so harrowing. All of these falling dominos create a nice pathway to our goal of less stress.
Do you practice self-care? Don't know how to start? Check out this handy Self-Care Inventory from one of my favorite resources, NAMI (National Alliance on Mental Illness). Making a few easy changes to your normal routine could advance your stress awareness to stress reduction.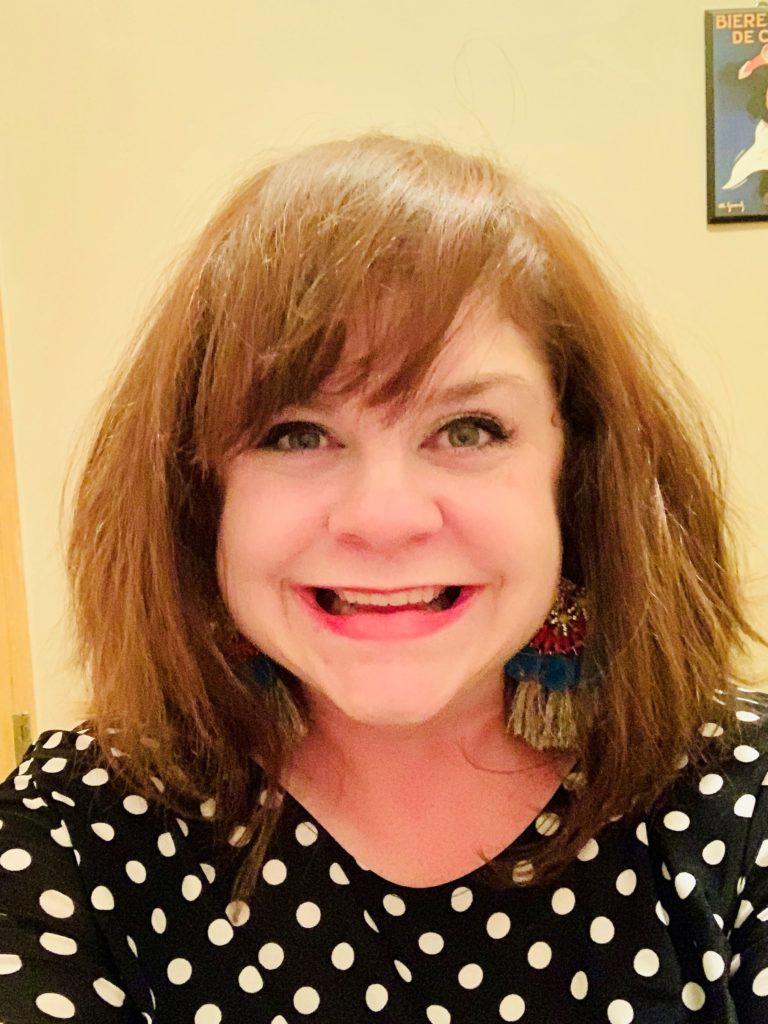 Molly Woodman, Outreach Coordinator for The Kim Foundation
Molly Woodman is one of the Outreach Coordinators at The Kim Foundation. Born and raised in Omaha, she earned her bachelor's degree in Communications from UNO. Molly spent fourteen years as the Director of Admissions and Recruitment at an area private high school. Her passion for public speaking and advocacy led her to The Kim Foundation in August of 2022. Molly manages the foundation's social media accounts, works closely with the Metro Area Suicide Prevention Coalition, and provides mental health awareness and suicide prevention education to the community through the Voice for Hope and Healing presentations.